As Baby Boomers, one of the biggest generations in American history, cross into retirement age, paying for healthcare is a major concern & all there is need of financial assistance for elderly care. On top of that, early Gen Xers are getting to an age where they are considering their retirement options. Senior care is an expensive venture, with some assisted living communities costing more in monthly rent than a one-bedroom apartment in a big city.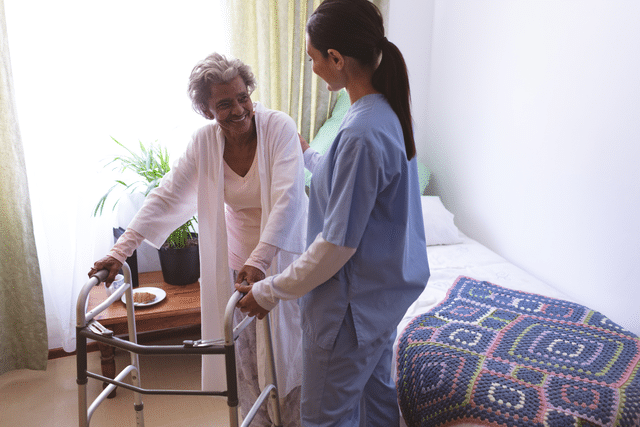 Financial Assistance for Elderly Care
Some insurance companies, including Medicare and Medicaid, will pay for a portion of senior care costs as financial assistance for elderly, but much of those expenses will be left to older Americans and their families. While some have saved their whole lives for this exact expense, many others are left wondering how they will pay for senior care.
The truth is, people struggle to save for retirement, much less the estimated $138,000 in healthcare costs that come with getting older. If you're an older American and you haven't saved enough to cover these costs, you may rely on your family to foot the bill. And if you're the family member of a senior, you are usually struggling to add these expenses to your monthly bills.
It has been found that the Senior Citizens of the USA struggles more to pay for healthcare as compared to other countries. This also means that America's elders are sicker than the seniors in other countries. They are more likely get cured as the health facilities are excellent in the USA as compared to other countries. But they are struggling because they can't afford to get treated. There are a few different options available to you and your family, including medical bill loans to help you cover unexpected expenses in a form of financial assistance for senior care. 
We can connect you to a variety of short term loan providers to help you cover unplanned medical care. 
Options to Consider for elderly care assistance
In the meantime, here are a few options to consider on paying for elderly care: 
1. Evaluate Your Insurance Options
Many people have excellent insurance through their employers that will provide some kind of elderly care assistance, especially if you work at one place for a long time. Also, government programs will cover some costs of senior care. However, if these options aren't available or aren't enough, other insurance policies may work for you.
While it will likely be expensive, consider a long-term care insurance policy. These policies are designed to provide exactly what they say: coverage for long-term care. These policies can cover not only medical care that you may need, but also cover help for daily activities like bathing, eating, and more. 
In some cases, you may not qualify for long-term care, even if you can afford senior care assistance. If this is true for you, you'll need to evaluate other options.
2. Consider Your Life Insurance Policy
If you have a life insurance policy, you will probably have access to an option called "accelerated benefits." Essentially, you tap into your death benefits and use that money for long-term care. However, you will likely need to meet certain criteria to take advantage of accelerated benefits, such as being terminally ill or cognitively impaired.
In addition, your benefits will typically be capped at a certain percentage, and any benefits used will be deducted from the death benefits paid out to your beneficiaries. Also, adding an accelerated benefits rider to your policy will likely increase your premiums by five to 10 percent. But, depending on your life insurance policy, it may not cost anything extra to take advantage of these benefits.
3. Use Your VA Benefits
If you are a veteran, the Department of Veterans Affairs does have some options for senior care. Depending on when you served and for how long, you and your spouse may qualify for financial help for elderly living at home. Usually, if you are eligible or you are currently receiving a VA pension benefit, you qualify for this option.
These benefits are paid out as an increase in your pension. Most commonly, qualified veterans can take advantage of aid and attendance, or A&A. You can qualify for this benefit if you:
Require help performing daily functions like bathing or dressing;

You are in a nursing home;

You're bedridden; AND/OR

"Your eyesight is limited to a corrected 5/200 visual acuity or less in both eyes; or concentric contraction of the visual field to 5 degrees or less."
Be sure to visit your local VA office or talk to a representative about all of your options.
4. Tap Into Personal Savings
If you or your family have personal savings, you might use that money to cover your senior care costs. This includes using your 401(k) or other retirement funds to cover your costs. Depending on when you are accessing this money, there may or may not be a penalty for using it. 
Of course, if you don't have savings or a retirement fund, a short term personal loans can help you cover any emergency medical bills. But these loans should not be your first choice when it comes to senior care, because they can be expensive to pay back.
5. Determine Your Medicare and Medicaid Benefits
Medicare is provided to senior citizens to cover their medical costs. However, after 100 days in a nursing home or after being hospitalized, Medicare beneficiaries are on their own. Medicare gap coverage can provide extra benefits, but they can be expensive. 
Medicaid, on the other hand, will cover ongoing long-term care. However, in order to take advantage of these benefits, you typically can't have more than $2,000 in liquid assets. In addition, not every facility accepts Medicaid. In fact, only traditional nursing homes are universally covered. This means you may have no choice on where to live. 
6. Apply for Medical Bill Loans
What do I do if I can't afford assisted living? Paying for senior care is the most common problem faced by senior citizens during Coronavirus. Millions of financially vulnerable elders with disabilities are qualified to get benefit but are not yet enrolled in. Senior citizens can have different financing options. To get financial help for seniors, the one that works best for you depends on the situation. Out of several financial options personal loans can be a great option to cover financial assistance for seniors. They work well for covering one time expenses. 
If all fails in Financial Help for seniors
If all else fails in financial assistance for seniors, you and your family should consider applying for short-term medical bill loans. These loans can help you cover emergency expenses but can become very expensive if you take too long to pay them back. As such, they may not be a good option unless you have steady income and will be able to pay your loan back soon.
Fighting for elders you don't know means young people fighting to expand social security for them. Senior citizens are finding some way to stay at home in this pandemic Covid-19. It's quite funny how all this works as an extortion scheme where senior citizens have to choose between literally dying and becoming a debt slave. At Your Own Funding, we can connect you to a variety of short term loan providers as financial assistance for elderly care. We can also help you calculate how much your loan will cost depending on how quickly you pay it back, your credit history, and more. Fill out our online form to find the best medical bills loans available to you today.