Personal Loan frauds are common nowadays as people do not know how some companies try to take advantage of needy people at this time of Covid-19 Pandemic. Personal loans, especially short term ones, have earned a pretty grisly reputation. In truth, this reputation is built off of actual horrible experiences people have had with predatory lenders in the industry. But what carries just as much truth is the fact that not all personal loan companies are predatory.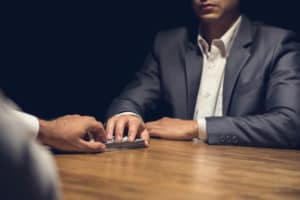 Many personal loan companies exist to provide a genuinely useful service to their borrowers. If this wasn't the case, then the personal loan industry would not have surged 17% last year to become valued at $138 billion overall. The fact is: people need solutions for their short term financial problems, and both legitimate and not-so-legitimate companies are out there to provide them financial options.
To ensure that you are not wrapped up in a personal loans scam, fake loans, frauds or scheme, always perform extensive research and due diligence. Know the exact company you are getting a loan from, and get your terms in writing before you ever sign any sort of agreement.
At Your Own Funding, we want to help potential borrowers out by pairing them with lenders that offer up-front terms with no hidden fees, no unfair penalties, and an easy-to-use calculator that estimates their total amount paid for their loan. By doing all of these things, we hope that our customers will avoid looking to other so-called lenders that intend to trick them out of their hard-earned money.
To help you spot red flags the next time you are researching personal loans, keep an eye out for the nine most common personal loans frauds, tricks, traps, and schemes below.
1. Application Fees and Other Up-Front Fees
Some lenders charge fees for their services in addition to interest. This can be perfectly acceptable, as long as the borrower knows what these fees are beforehand and agrees to them in exchange for access to the funds they need.
What is unacceptable is charging a fee without a signed agreement guaranteeing a loan. Many personal loan frauds offers ask applicants to give them money before their loan is ever even processed. Some will even disappear after they get this fee, never to be heard from again.
To prevent this scammer loan from happening, never pay for a loan you aren't 100% sure you are approved for. No on-the-level lender will ask you to give them money before your loan agreement is drawn up, ready for you to review and sign.
2. "We Lend to Everybody, No Credit Check Required"
Even if you know you have bad credit, you should still want your lender to review your credit score to see if you qualify for lower interest, lower payments, or some other sort of better arrangement.
Companies that promise that anyone can get a loan may either have unreasonable terms or may not be a true lender at all. We are not saying that every company that foregoes a credit check is illegitimate, but you should always beware of offers that sound too good to be true.
3. Hidden Fees and Costs
You almost always have to pay money to borrow money; that's a simple fact of life. But at the very least, you should know what you are going to pay ahead of time and have it in writing.
In fact, the Truth in Lending Act requires that all terms and conditions of a loan are available in writing and that the lender follows these to the letter. If a company promises one thing but then surprises you with fees and other costs, they could potentially fall into big trouble with the Federal Trade Commission (FTC).
You can even report a deceptive practice or suspected scam to the FTC if someone tries to take advantage of you.
4. Forcing You to Get Loan Insurance
Some secured loans require you to pay extra for insurance against the loan in case you fail to pay the loan as agreed. The most typical situation where you will see this is with home mortgages where the buyer cannot put up the requested down payment.
However, a short term, unsecured personal loan will almost never need this extra insurance. Lenders who say that this insurance is mandatory or standard practice should be looked at with scrutiny.
If a lender pressures you into buying insurance or other related products you really feel like you don't need, then don't be afraid to walk away.
5. Tantalizing Loan Perks That Disappear if You Make a Late Payment
No interest? Cash back? Free gift cards? Loan perks like these can make you feel like you will come out of the other side of a short term personal loan with more than you started with.
Unfortunately, a lot of these promises sound too good to be true for a reason. Lenders often offer these perks under the condition that you make all payments exactly on time. Missing your payment by a day or just a few hours can not only mean you don't get your "prize." It can also mean unfair penalties.
Stay safe from personal loan frauds and Always consider the full costs of a personal loan and the penalties associated with failure to make payments. If you see any terms that seem unfair, don't let the promise of goodies convince you that those risks are worth taking.
6. Preloaded Interest and Early Payment Penalties
This type of loan trap is, tragically, standard practice for most loan providers. They intend to make their money off of interest regardless of whether the customer pays early or not. Some even have the gall to punish you with extra fees for paying early!
Only take out loans that let you pay it off early without any extra penalties. Ideally, early payment will also reduce the interest you pay. You should be rewarded for early payment, after all, not punished!
7. Pressuring Borrowers to Do a Rollover or Extension
Lots of "payday" lenders and other short term personal loan companies count on their borrowers not being able to pay in full by the due date. The company will then offer to "roll over" or extend the loan for an additional fee. These fees can rack up pretty quickly, and sometimes they will result in more interest paid than you initially agreed to!
Having the option to roll over or extend your loan is fine, but you want to avoid it at all costs if possible. Be especially wary of lenders that automatically roll over your balance because they can charge you fees without you even noticing.
8. Imposter Lenders Calling about Debts
A personal loan application contains a ton of sensitive personal information. This info can include your name, address, phone number, workplace, social security number, and even your account information.
Some lenders will leak or sell this information to con artists. The con artist will then use the information to harass the borrower, pretending that they are calling about the existing loan or some other loan the borrower supposedly forgot about.
Know exactly who your lender and loan servicer is, and never give out personal details over the phone or email. Even if the person on the phone is who they claim to be, you can always hang up on them and go online or in person to make payment arrangements safely.
9. Lenders Who Flat out Steal from Your Account
If you give a personal loan company access to your bank account, keep a close eye on transfers. Some companies draw from borrowers' accounts without permission for fees and other charges that really don't exist.
This is a huge violation of the law! The FTC even made one company repay victims $505 million for all of the funds it basically stole directly from its borrowers.
What to do If you have been Scammed?
how to get a small business loan with bad credit? If you needed a short term personal loans, but have been the victim of a personal loan frauds then it is best to contact police nearby or local law enforcement straight away. You can also contact Better business bureau and federal trade Commission as they will also be helpful knits. Also you have other various options to notify like FBI and State Attorney General. Additionally there are the websites that are designed to look legitimate in a strive to steal visitors personal information then you can report it to google. Here is how you can report it to google-
1. Take out the mail, address and telephone number of fraud company
2. Explain when and how you became the victim of a personal loans scam.
Practice Caution and Protect Yourself against personal loan frauds by Working with Trustworthy Personal Loan Providers
Whether a loan company is doing something that is illegal, unfair, or just plain sneaky, remember that an ounce of prevention is worth a pound of cure. Read up on any lender that is offering you a personal loan. Try to see if they have existing complaints, unhappy customers, or pending litigation.
Compare multiple loan operators to find the right ones for you. Get everything in writing, and review your terms and conditions carefully. Be aware of the laws for short term personal loans in your state to see if the company is asking you to do something that's illegal.
Finally, either it's about how to get a car without credit, or a emergency loan or any kind of personal loan, know that there are options out there that want to help rather than hurt your financial situation. Also, The personal loan frauds should be reported to the police immediately at the point the debt would be released from you. By working with an online loan company for bad credit like Your Own Funding, you can gain all of the benefits of a best short term personal loans without getting burned or burdened by unnecessary debt.